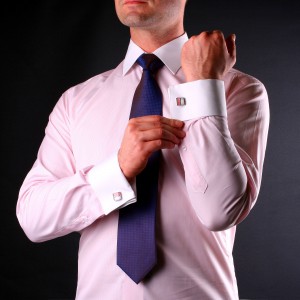 Solid color dress shirts can match easily with most neckties.
On the contrary, patterned shirts, such as plaid, striped and checkered, can be difficult to match with your neckties.
For a classic look, prefer a solid white or a pale blue dress shirt.
Here is some tips to match perfectly your dress shirts with your other clothes:
– you can wear a striped shirt with a striped tie as long as the stripes aren't identical in size. You can have a pattern on pattern when one pattern is much bolder than the other.
– Make sure at least one color in your tie matches either your suit, shirt, or your belt and shoes.
– Avoid wearing a striped shirt with a striped tie and a pinstriped suit. Matching three similar patterns together is rarely a winning combination. in general, avoid pairing three similar patterns.
How to wear dress shirt ?
A shirt must be ironed free of wrinkles.
For more smoothness and stiffness you can treat you shirt with starch.
For formal occasion, tuck the hem inside the waistband of your trousers.
If you wear a necktie, you must button the dress shirt to the top. While the shirt is buttoned, you should be able to slide two fingers between your neck and collar.
For informal usage, you can leave the top button unfastened.
When you bend your arm, sleeves should be long enough so that cuffs do not ride up your wrist when you move your arm.
Don't be afraid to roll your sleeves up when necessary.
In general, a shirt will last two years. Chili parties, leaky pens, sip-tops, the world is full of ways to ruin good fabrics!